Background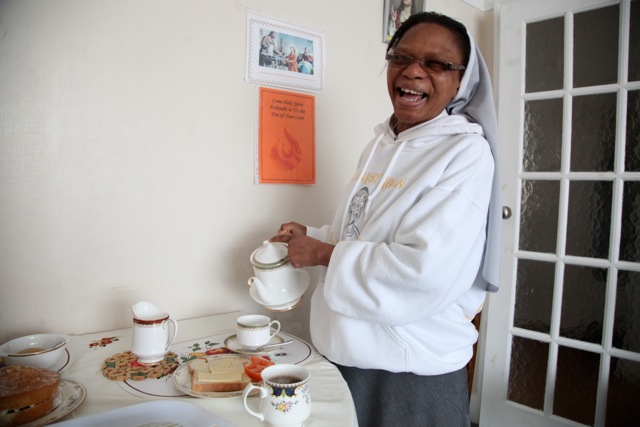 Sister Josephine (pictured left) and her Charity SteerRight are currently running a project which helps children at St Mary's School in Croydon.  When questioned, this is what they said they learnt:
"To respect and how to like others.' 
All but one said they had learnt … 'How to 'Love themselves' … How to succeed in life … How to be calm and patient … How to pray … How to achieve and be successful … How to be more respectful … Also, they said they … have learnt about life goals and life coaching … have learnt to trust my mum … have learnt that I am responsible when I do things."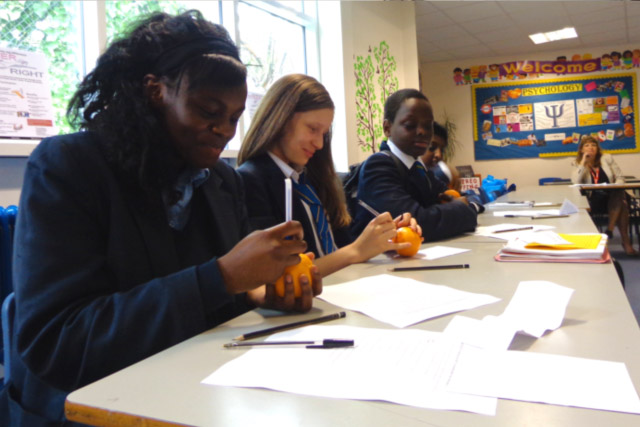 This work has been funded by a £9K National Lottery Grant.  These funds are coming to an end.  SteerRight wants to continue building on it's strengths and giving a little help to achieve a big difference.
This photograph shows the young people exploring an orange to help them spot little differences in themselves yet all are the same human beings.  The Education Director of Southwark Diocese, Professor Anne Bamford looked on.  Here is what she subsequently said about the work, please click this link, and this link.
Greg Watts intends to publish an independently written  article in the February edition of The Pilgrim.
Please click on this link to read what 'The Sun' said about Sister Josephine's work.  Sam Adams, the News Reporter in The Tablet reported about the work in the edition published on the 24th August 2012.
Sister Josephine has helped the Ubuntu Foundation in Croydon which is the main charitable arm of the Desmond Tutu Foundation. Here she is with some SteerRight children and supporters: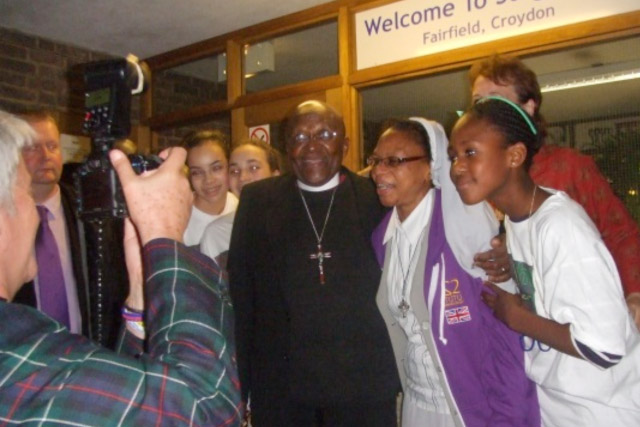 The Handmaids of the Holy Child of Jesus
Sister Josephine is a member of a papal order: www.hhcjsisters.org.   The Sisters prepare themselves for work with educational and vocational qualifications which will support the ministry they feel is most needed locally.  Sister Josephine has multiple qualifications in Health Planning and coaching.  A few years ago she was introduced to Prime Minister Tony Blair to celebrate her work in the community.  Key members of the Croydon Community (Councillors, Head Teachers etc.)  want to keep her in Croydon where (as the 2011 Riots illustrated) the need for Youth work is great.
SteerRight has a Board of Trustees and Directors.  They work on Capacity building with the support of the Forum for Black and Ethnic Communities in Croydon.  SteerRight follows the UNESCO protocols (given to us by Anne Bamford … who was an UNESCO advisor).  This provides proven project management advice and criteria for maximum impact.
Qualities of Successful Programmes as identified by UNESCO: Active partnership and collaboration, Flexible organizational structures, Accessibility to all, Ongoing professional development, Reflection and evaluation strategies, Local connections, Project-based, research-based, Active creation, performance and exhibition, Inspired leadership, Take risks . Impact Criteria as identified by UNESCO: Personal impact, Social impact, Cultural impact, Educational impact, Ethical impact, Economic impact, Innovation impact, Catalytic impact, Negative loss impact.
SteerRight wants to help young people and broaden our impact by working with associated professionals.